Thank you for helping us to protect people and animals from rabies
Rabies is the deadliest disease on earth with a 99.9% fatality rate, but it is also 100% preventable. As a zoonotic disease, rabies is passed from other animals to humans. Over 5.5 billion people live with the daily risk of rabies, with 59,000 deaths every year. Over 95% of these deaths are in Africa and Asia, with the majority occurring from rabid dog bites. Around half of the people who die are children.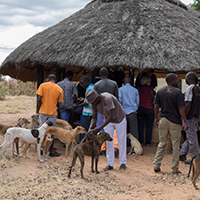 A key part of every rabies elimination programme is the mass vaccination of dogs, as this protects both people and animals from the disease. The Global Alliance for Rabies Control (GARC) helps countries to run dog vaccination campaigns as part of its work. In Zimbabwe, we have been working all year with the government and local animal welfare charities on a mass dog vaccination and public awareness campaign in the capital city of Harare, where a rabies outbreak began at the end of 2010.
With the help of various donations (animal rabies vaccine, vaccine administering and animal handling equipment, and educational booklets), more than 9,000 dogs have been vaccinated against rabies since February 2018. While the work has been implemented over the course of a whole year by a small group of dedicated individuals, an incredible amount of work took place around World Rabies Day (September 28th) this year, when a remarkable 2,700 dogs were vaccinated. Donor support like yours ensures that dogs, and the broader community, are protected against rabies. Furthermore, donor support has also ensured that local communities have been educated about rabies prevention, with GARC education booklets given out to children, to increase awareness about dog bite prevention, rabies and responsible pet ownership.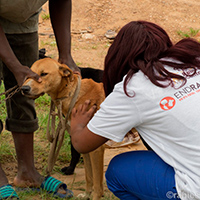 We are very grateful for your donation towards our work. Rabies deaths can be ended by 2030, and support like yours is essential to help make this a reality.
The Global Alliance for Rabies Control (GARC) is a charity that works to eliminate deaths from dog-transmitted rabies by 2030. We work with governments; veterinary, public health and educational experts; and communities. We help them to create rabies elimination plans, train local people and institutions to enable them to make positive changes in their own areas, and work with them to help deliver the different elements of the programme. We have developed capacity building tools, regional networks and close collaborations with international health organizations.
Learn more about our work at https://rabiesalliance.org
Kind regrets
GARC
https://fdug.dk/wp-content/uploads/2019/01/world-rabies-day-2018-5-300-200.jpg
200
300
Dyrlæger uden Grænser
https://fdug.dk/wp-content/uploads/2018/04/FDUG_logo-378-60-300x86.jpg
Dyrlæger uden Grænser
2019-01-05 12:23:33
2020-03-05 12:17:24
Nyt om vores donation til World Rabies Day